Middleham Juliet Balcony£160.00 - £420.00
The Middleham Juilet Balcony. Decorative diamond top design and bushes on the infill bars. A new for design 2020.


Cartmel Juliet Balcony£130.00 - £380.00
The Cartmel Juilet Balcony. Striking new design for 2020. Available in a wide range of sizes and colours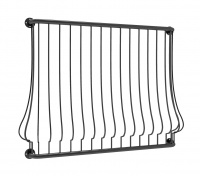 Barden Juliet Balcony£170.00 - £360.00
A design classic. Based on the traditional balconies of old.
At superb price too!