Guide To Building Regulations – Juliet Balconies & Railings
We often get asked by our customers "Do your products meet U.K. BS Building Regulation Standards?". The simple answer to this question is YES.
There are some simple rules which apply to Juliet Balconies and Railings when supplied here in the U.K.
The Building Regulations 2000. Approved Document K – Protection from falling, collision and impact cover this area.
Section K2/3 3.3 – Which relates to Guards and Barriers at Heights, protection from falls.
BS 1722-9 2006 is a specific rule that relates to the design of balconies and barriers. This rule advises that gaps between the bars on balconies and barriers do not exceed 100mm (10 cm). This rule greatly reduces the potential for someone getting trapped.
The 100mm rule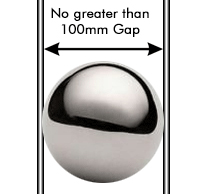 Juliet balconies in the UK are regulated under the Building Regulations Part K, which covers the requirements for protection from falling, collision and impact. In particular, section 1.8 of Part K specifies the requirements for guarding of openings, including balconies and balustrades.
According to the regulations, any balcony or similar structure that is more than 600mm above the ground must have a protective barrier or guard that is at least 1100mm high. This guard should be able to resist the force of a person leaning against it, and any gaps between the railings should not be large enough to allow a child to pass through.
Juliet balconies, which are typically flush with the building and do not extend beyond the exterior wall, are often exempt from these requirements. However, the regulations state that a guard may still be required if the balcony is accessible from a window, door or other opening, and if there is a risk of falling.
It is important to note that building regulations can vary depending on the specific circumstances and location of the building, and it is always advisable to seek professional advice from a qualified architect or building inspector before installing a Juliet balcony or making any alterations to an existing one.
Building Control in the UK is a service provided by local authorities or private sector Approved Inspectors (AI) to ensure that buildings are constructed in compliance with the Building Regulations. Building Control is responsible for checking that building plans meet the required standards and that the construction work complies with the regulations.
The Building Control service can be used by anyone who is planning a building project, from individual homeowners to large-scale developers. Building Control officers are highly trained professionals who work closely with architects, builders, and other construction professionals to ensure that buildings are safe, sustainable, and energy-efficient.
In addition to checking building plans and inspecting construction work, Building Control officers also provide advice and guidance on building regulations and can help resolve any issues that arise during the construction process.
Building Control is an important part of the UK's construction industry, and it helps to ensure that buildings are constructed to high standards of safety and quality. Building regulations are regularly updated to reflect changes in technology and building techniques, and Building Control plays a vital role in ensuring that these regulations are enforced.
.
ALL of our Juliet Balconies, that can be purchased from this website comply with these standards.
This allows peace of mind when it comes to satisfying your local Building Control Office.
If you have any questions relating to the compliance of our products please contact us.