Guide To Building Regulations – Juliet Balconies & Railings
We often get asked by our customers "Do your products meet U.K. BS Building Regulation Standards?". The simple answer to this question is YES.
There are some simple rules which apply to Juliet Balconies and Railings when supplied here in the U.K.
The Building Regulations 2000. Approved Document K – Protection from falling, collision and impact cover this area.
Section K2/3 3.3 – Which relates to Guards and Barriers at Heights, protection from falls.
BS 1722-9 2006 is a specific rule that relates to the design of balconies and barriers. This rule advises that gaps between the bars on balconies and barriers do not exceed 100mm (10 cm). This rule greatly reduces the potential for someone getting trapped.
The 100mm rule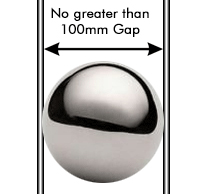 Where Juliet Balconies are concerned there needs to be a minimum of 1100mm (1.1 mtr) of height between the top of the balcony and the floor lever where you stand. This is to reduce the risk of a person falling over the balcony.
ALL of our Juliet Balconies, that can be purchased from this website comply with these standards.
This allows peace of mind when it comes to satisfying your local Building Control Office.
If you have any questions relating to the compliance of our products please contact us.