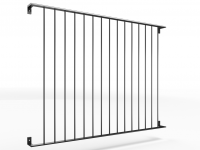 Addingham Juliet Balcony£85.00 - £210.00
Superb value for money. A classic balcony design.


Middleham Juliet Balcony£160.00 - £420.00
The Middleham Juilet Balcony. Decorative diamond top design and bushes on the infill bars. A new for design 2019.


Harewood Juliet Balcony£130.00 - £380.00
The Harewood Juilet Balcony. Stylish and elegant with special forged infill bars, new for 2019.